Hi

I think one of the things that makes Neocron such a cool thing is the setting. A post apocalyptic yet technilogically advanced and distopian society is something so new, so different. KK did such a great job creating an amazing atmosphere (and it'll hopefully get even better when NC2.1 rolls around!), it really feels like you're in an actual city!
However there are more than a few things that I feel should have been interpreted differently!

So please take this thread as an opportunity to express or re-interpret anything in NC that you feel KK could have done better with, be it vehicles, clothing, buildings, weapons, you name it!
This thread is about re-interpretation and expression, so please don't be afraid to post any of your less than refridgerator-magnet-worthy thoughts and ideas here as long as they express either some form of creativity or an idea (AKA no scribbly "XYZ is teh pwn" etc etc, that's stupid

)
I'll go first!
Coming from a background in fashion and costume design, the only thing I can really doodle is outfits and clothing

So here's a few of my chars!
This is an old picture of my main char Rosalind Mendoza! Back when I was Tsunami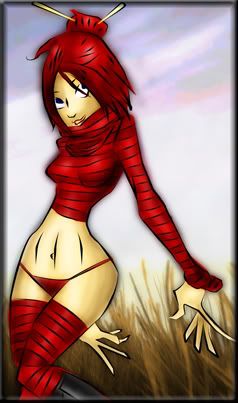 This is myself (now) as an FA! I didn't doodle this with myself in mind but I really like the outfit!
And this is my other char, Antimony Jones, a poison using (temporarily crahn) monk!
I posted some of my interpretations, now it's your turn!

(PS - I have a bunch of other neocron-inspired character doodles, click my signature for the thread I made on the official forums)
(PPS - I apologize if this should have gone in the roleplaying forums but I have taken a more OOC approach to this thread!)